For over 10 years, Butcher steakhouses have been preparing excellent steaks and skillfully pairing them with bright wines. Here we carefully preserve traditions and boldly experiment, following the current gastronomic trends.
Only professionals work in the kitchen of each restaurant. They are fluent in the art of cooking meat and strive for one goal - so that guests get the most out of every bite. Our love for what we do and inspiration allow us to achieve impressive results.
A steak you've never had before

A steak we want to tell everyone about

300 g. / 3550 rub.

MACHO RIB-EYE STEAK

Fragrant glazing with spices and a unique way of cooking in a wood-fired oven give the meat a unique taste. And the crispness created by the glaze keeps the steak's amazing juiciness

350 g. / 3570 rub.

ASADO STEAK

Brutal grass-fed beef tenderloin steak. Cooked with Uruguayan herbs.

300 g. / 3570 rub.

PICANHA STEAK

The favorite steak in Brazil.

420 g. / 3370 rub.

COWBOY STEAK

Brutal bone-in rib eye made from premium grain-fed beef.

480/700 gr. / 5100/6700 rub.

FILET STEAK

Tender grass-fed beef tenderloin steak.

250 gr. / 3370 rub.

FILET PRIME STEAK

Premium grain-fed beef tenderloin steak. The breed of bulls is Black Angus. 200 days of grain feeding. 21 days of wet aging. Prime.

250 gr. / 3990 rub.

RIBEYE STEAK CHOICE

Steak from beef, 90 days of grain feeding, 100% Black Angus meat.

300 gr. / 3370 rub.

RUSSO RIBEYE STEAK

Marbled steak made of Russian beef. The breed of bulls is Black Angus. 200 days of grain feeding. 21 days of wet aging. Prime. Miratorg.

350 gr. / 4370 rub.

NEW YORK STEAK

Grain-fed Russian beef steak. The breed of bulls is Black Angus. 200 days of grain feeding. 21 day wet aging. Prime.


300 gr. / 3270 rub.

MACHETE STEAK

Its unusual texture and original shape make Machete a truly masculine steak. 200 days of grain feeding. 21 days of wet aging. Prime.

300 gr. / 3350 rub.
CHURRASCARIA AT YOUR TABLE
The seductive aroma of spices and freshly roasted meat, a pleasant bustle before a delicious dinner, the smiles of hospitable waiters. This is the Brazilian Churrascaria in all its glory. Grilled meat is expertly prepared here, and the choice of dishes is simply huge. We have mastered the secrets of Brazilian chefs and invite you to visit the Churrascaria right at the Butcher steakhouses.
Amazingly juicy ribeye. Delicate churrasco in a mixture of spices. And of course, the unique picanha is the most beloved steak in Brazil, appreciated for its rich taste and special juiciness.
The steaks in our meat restaurant will be cut by the chef himself!
We guarantee pleasure from every bite!
---
Butcher steakhouse offers its guests a wide selection of New World wines!
The wines in our catalog are very diverse, because they come from different countries and continents. Climatic conditions are reflected in the unique character of each wine, expertly crafted by a talented winemaker.
We make sure that you get a real gastronomic pleasure, that is, you feel the magic of combining wine and food.
After all, it is the bright and rich wines of Australia, New Zealand, USA and Argentina, which are considered some of the best in the world, are ideally combined with a juicy steak. And this is not just a coincidence or a trend of short-term fashion, these are historically established foundations. The best meat comes from these countries!
In order to fully enjoy the rich taste of meat, complement the dish with a glass of wine.
• Have you chosen a steak with pepper sauce? Check out Australia's spicy wines from the Shiraz grape variety.
• Want something light? Try New Zealand wines.
• Interested in a fresh take on classic grapes such as Merlot? Take a closer look at US wines. Are you attracted by the exotic? Explore the wines of Argentina, South Africa and Chile.
You will certainly appreciate the rich taste and aroma of the outstanding wines of the New World. The secret of their popularity lies in the rare combination of high quality and affordable prices.
WE SHOW YOU THE MEAT LIST
YOU CHOOSE YOUR STEAK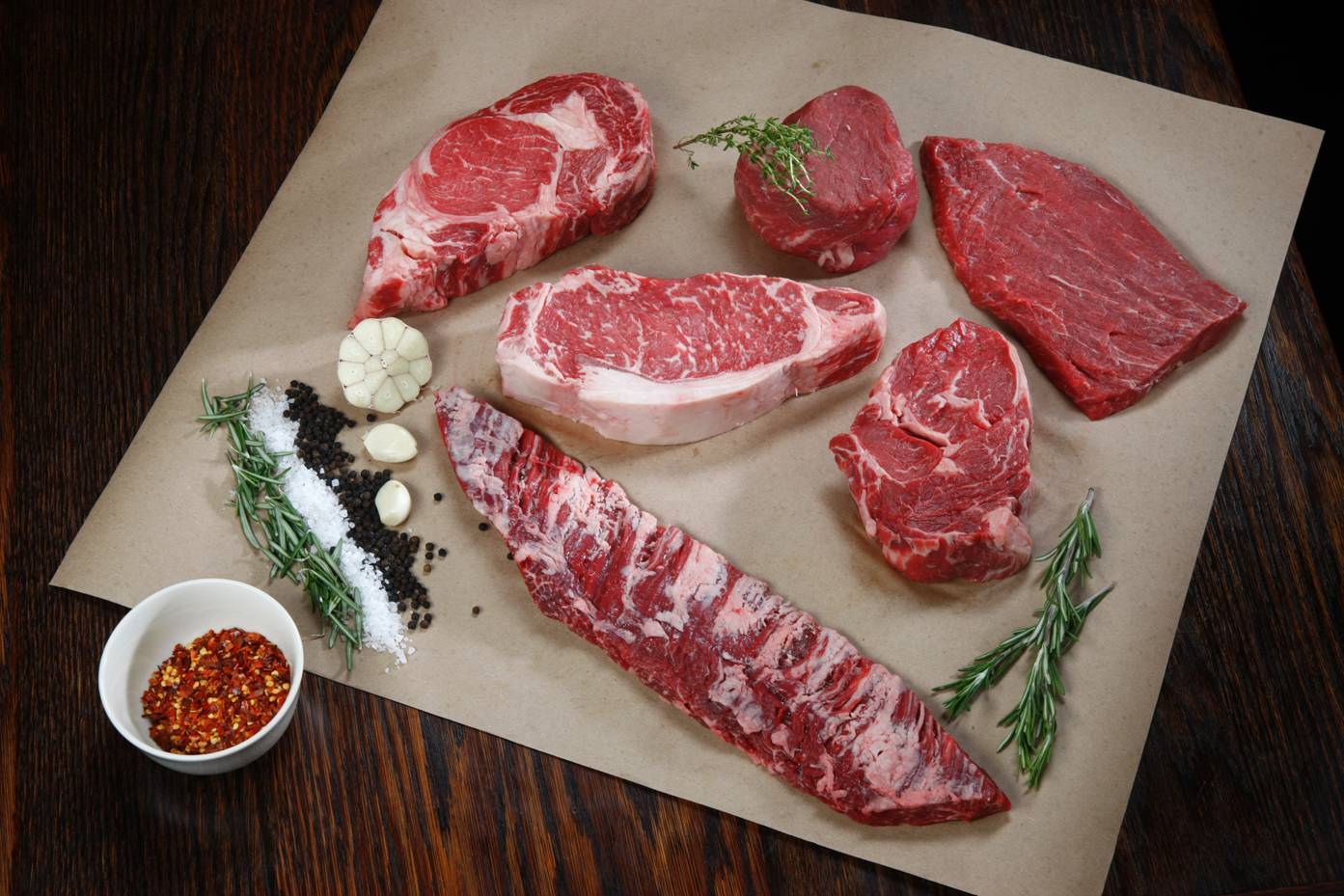 Our meat list is a real gourmet encyclopedia. In it you will surely find a dish that you like. All steaks from the menu are presented on a single tray. Listening to the fascinating story of the waiter about each of them, you can easily make a choice. A classic, alternative or South American steak prepared according to the Sarmiento method. Perfectly roasted and incredibly juicy.
At Butcher Steakhouse, we recognize four degrees of doneness of steaks:
RARЕ — roasted outside, red inside;
MEDIUM RARE — roasted outside, red-pink inside;
MEDIUM — well-roasted outside, pink inside;
MEDIUM WELL — deeply roasted on the outside, light pink on the inside.
1

Rare

Roasted on the outside,
bloody on the inside.

2

Medium rare

Roasted on the outside,
red and pink on the inside.

3

Medium

Well-roasted on the outside,
pink on the inside.

4

Medium well

Strongly roasted on the outside,
light pink on the inside.

5

Well done

6

R.I.P.
STEAK WITH A GUARANTEE
If you are not satisfied with the appearance of the steak, its doneness or you had to wait for a long time*, tell us about it and we will replace the steak or refund your money.
* the standard time of steak preparation in Butcher steakhouse chain is 20-35 minutes
BUTCHER STEAKHOUSE – THE MEAT RESTAURANT!
Some interesting facts about Butcher meat restaurant.
• Our steak houses in Moscow prepare 35-37 thousand steaks every month!
• We cook meat in a wood-burning oven on birch coals. Bright aroma and rich taste are guaranteed!
• Before ordering, we show you the meat list and then you choose your steak.
• We cook our steaks only from premium grain-fed beef of Black Angus and Hereford bulls.
• Chilled meat is supplied to us by small farms from Chile, Uruguay, Argentina and Russia.
• In meat restaurants of Butcher chain, we follow the world steak cooking traditions.
• The unique Sarmiento method from Latin America is when grape vines soaked in red wine are added to the coals in the wood stove.
• Cooking steaks in a glaze is one of the most popular ways in the state of Texas. It is the aromatic spice glaze and a special recipe that give the meat a new taste.
• In Butcher you will find the most interesting and brilliant wines of the New World, because their principle is "low price - high quality", as opposed to the principle of some Europeans "there is no such thing as a price that is too high."
• One of the best steakhouses in Moscow according to Trip Advisor
• Butcher is the first Russian steakhouse which started cooking alternative steaks. Fragrant Machete, delicate Flat Iron and signature Butcher. To everyone who appreciates the combination of meat and good wine, we offer a rich selection of New World wines at affordable prices, which are shared by the best steakhouses in the world.
Meat has always been of particular value to men. That was why we decided to create the first steakhouse. This is how Butcher appeared, where the steak takes the first place. Our task is to expand the very concept of "steak", go beyond the standard offer: "Ribeye", "T-Bone", "Filet Mignon", "New York" ...
We invite you to visit Butcher and taste our specialties. Here you can choose the piece of meat from which your steak will be prepared. The waiter will tell you in detail about the features of each of them, and you can easily choose what you like. We are the only place in Moscow where you can try such dishes as: chef's lamb stew, oxtail soup, beef tenderloin tartare, premium Wagyu beef steaks, signature burgers and much more.
The hospitable waiters at Butcher steakhouses will be happy to help you choose the perfect steak and wine. A unique gastronomic experience, a cozy atmosphere and pleasant conversations await you.
"The best steak house is the one in which the steak comes first."
Your Butcher meat restaurant.
Steakhouse in Moscow.